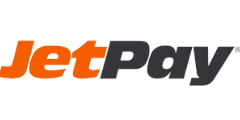 Best for
Restaurants, banks, and credit unions that are okay with a long-term contract
Specializes in
eCommerce, card-not-present merchant services, mobile payments, eCheck processing
Pricing Summary
Setup Fee: $0
Monthly Fee: Undisclosed
Swipe Rate: 1.00% - 4.99%
Keyed-in Rate: 1.00% - 4.99%
Early Termination Fee : $550+

Visit

JetPay Merchant Services
JetPay Merchant Services was acquired by NCR in 2018. The company has since dropped the JetPay name and rebranded itself under the NCR logo. But it still offers the same eCommerce and card-not-present solutions to merchants. JetPay also offers POS systems through NCR and mobile payment processing.
JetPay Merchant Services

Overview

JetPay Merchant Services is a registered ISO/MSP of Esquire Bank, and the company's headquarters are located in Carrollton, Texas. Before the company was acquired by NCR, it was servicing more than 10,000 merchants across the country with its eCommerce and card-not-present payment solutions.

The NCR acquisition has expanded JetPay's offerings. Now, the company offers POS solutions, mobile payment processing, ACH and eCheck processing, and more. The company's services are an especially good match for merchants who operate in the banking and restaurant industries due to the depth and variety of solutions it offers.

NCR Payments doesn't disclose its prices online. The company says that this is because the amount they charge varies based on the needs of each unique merchant it serves. But it makes it difficult for interested merchants to determine whether the company is a good fit for their price goals.
Quick Facts

Head Quarters
Carrollton, Texas
Merchant Provider Risk Tolerance
What We Like

What We Don't Like

Industries Served
Accounting & Tax Prep
Clothing & Apparel
Convenience Store
Credit Repair
Debt Consolidation
Electronics
Gas Station
Healthcare
Legal
Marketing Agency
Moving Companies
Personal Service
Property Management
Restaurant / Bar
SAAS
SEO & SEM Services
Thrift Store
Web Design Services
Business Types Served
B2B
Ecommerce
High Risk
High Volume
MLM
Mobile
Online
Retail / Card Present
Small Business
Subscription / Continuity
Tech Support
JetPay Merchant Services

Products & Services

Payment Gateway

NCR Payments offers a proprietary payment gateway solution for online sales. But it's a bit vague about what exactly the gateway does. We do know that it provides support for recurring billing, tokenization, and transaction recycling. But you would need to contact JetPay directly to learn more.

Point of Sale (POS) Systems

Thanks to the NCR Payments acquisition, JetPay Merchant Services now can also set you up with a POS system. The company has a number of terminals to choose from, each with its own set of benefits. They also utilize software called NCR Silver, which you can run on an iPad. 

Additionally, JetPay has a bundle called NCR Aloha that was specifically designed to address the payment processing needs of restaurants.

Merchant Accounts

If you create a merchant account with JetPay, it'll offer you a traditional full-service setup. Your company will be given a merchant identification number and will function as your direct processor. The benefit of this is that NCR will handle all of your customer service issues so there won't be a need to deal with a third-party back-end provider when things go haywire with a payment.
JetPay Merchant Services

Payment Processing
ACH Check Transactions
Check Services
Contactless NFC
Credit Card Processing
Credit Card Terminals
Debit Card Processing
eCheck & ACH Processing
EMV Processing
Mobile Payments App
Online Payments
Payment Gateway
POS Equipment
Recurring Billing
Retail Payment Processing
Virtual Terminal
JetPay Merchant Services

Billing & Invoicing
Mobile Payments
Online Invoicing
Online Payments
Recurring/Subscription Billing