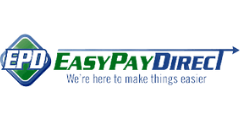 Best for
E-commerce companies, SaaS companies, "high-risk businesses", & established small/medium businesses ($500,000+ in annual sales)
Specializes in
Easy Pay Direct has unique gateway software and banking solutions to optimize payments for eCommerce, SaaS, information products, supplements, and CBD amongst other verticals.
Pricing Summary
Setup Fee: $99
Monthly Fee: $24.95
Swipe Rate: 1.59% + $0.17
Keyed-in Rate: 2.39% + $0.29
Early Termination Fee : $0 (domestic accounts)

Visit

Easy Pay Direct
Located in Austin, Texas, Easy Pay Direct was founded in 2009. Brad Weimert is the founder and CEO. Easy Pay Direct's main benefits is their patent pending payment gateway and large network of back end banking partners.  They offer a single point of contact to facilitate multiple merchant accounts.
According to its website, Easy Pay Direct caters to eCommerce and 'Card Not Present' businesses (CNP).  They have a focus on the following spaces: SaaS, eCommerce, information products, supplements, CBD and a number of others. The firm refers to these sectors as 'special needs' instead of 'high-risk', a common label for these industries.  There are several things online that indicate online that Easy Pay Direct serves many other such verticals very effectively.

Their payment gateway is patent pending and seems to have integrations with all major shopping carts.  They also have tools for mobile payment and POS systems but have more marketing that focuses on the eCommerce.

They serve more than 60,000 merchants such as Frank Kern, DigitalMarketer.com, InfusionSoft, Samcart, etc.

Based on their website, the company's rates seem to be lower than most online payment providers at 2.39% & .29.
They also state they either tiered or interchange plus pricing.

We have found no negative reviews of Easy Pay Direct online.
Quick Facts

Merchant Provider Risk Tolerance
What We Like

Good for high-risk industries
Very few negative reviews
Single Point of Contact for Multiple Merchant Accounts
Industries Served
Accounting & Tax Prep
CBD & Hemp
Cigars & Tobacco
Clothing & Apparel
Convenience Store
Credit Repair
Debt Consolidation
Education
Educational Seminars
Electronics
Guns & Firearms
Healthcare
Hunting & Outdoor Equipment
Marijuana / Cannabis
Medical
Nutraceuticals & Supplement
Personal Service
Pharmaceutical
Restaurant / Bar
SAAS
Self Defense, Tasers & Stun Guns
Telemedicine
Thrift Store
Business Types Served
Ecommerce
High Risk
High Volume
Information
Low Risk
Mom & Pop
Online
Retail / Card Present
Small Business
Easy Pay Direct

Products & Services

Easy Pay Direct offers the following products on its website:

Payment Gateway: The firm's main in-house product is the EPD Gateway. It allows merchants to accept debit and credit cards and ACH payments.
A core feature is it's ability to do 'transaction routing' which allows companies to have more than one merchant account and distribute their sales volume across them.
Several features are also included, such as a 'customer vault' that securely protects sensitive data.
The gateway has an email invoicing feature and has Level 1 security for PCI compliance.

The gateway has integrations to all major shopping carts including Shopify, WooCommerce, Magento and a list of almost 200 others.

Mobile Payments: The firm allows merchants to accept payments on-the-go using an app on their smartphones that connects to the EPD Gateway.  Merchants can instantly record and batch all payment information along with emailing receipts to customers. Easy Pay also provides wireless terminals as an alternative, but those do not connect to their gateway, which offers less integrated reporting.

POS Systems: Easy Pay Direct offers Clover Station and  Clover Mini POS systems through a First Data /Fiserv partnership. These products have EMV and NFC capability along with access to the Clover App Market, which allows you to add loyalty programs, gift cards, and integration with third-party systems, QuickBooks, to your system.
Easy Pay Direct

Payment Processing
ACH Check Transactions
Credit Card Processing
Debit Card Processing
eCheck & ACH Processing
High-Risk Industries
Merchant Cash Advance
Online Payments
Online Shopping Cart Integration
Payment Gateway
Recurring Billing
Virtual Terminal
Easy Pay Direct

Billing & Invoicing
Mobile Payments
Multi-Currency
Online Invoicing
Online Payments
Payment Processing
Recurring/Subscription Billing
Easy Pay Direct

Setup & Support

Easy Pay Direct has an online application that allows merchants to submit their application online.  They state their setup time is 2 days to 2 weeks, "depending on your industry and how quickly you submit supporting documentation".

This indicates that Easy Pay Direct does thorough underwriting on the front end, which is a good practice for eCommerce companies and 'high risk' businesses.  They state a very high approval rate. 

Easy Pay Direct provides customer service via live chat, email, telephone, and text.

The support service is available from 8 am to 5 pm CDT, Monday through Friday. 

The firm provides training for newly registered merchants on how to use its Easy Pay Direct gateway.

The FAQ section on its website is also fairly thorough.

There are several positive reviews online regarding Easy Pay Direct's customer service.
Setup Highlights

Documentation / Knowledge Base
Recorded Video Training
Support Highlights

Domestic Phone Support (Business Hours)