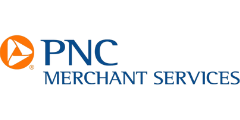 Best for
PNC Merchant Services is best for businesses that prefer to use Clover products. PNC Merchant Services has a large selection, including Clover Go, Flex, Mini, and Station. PNC also offers eCommerce solutions that integrate with Clover and 50 other third-party payment terminals.
Specializes in
As a big bank, PNC offers many services beyond payment processing. In fact, PNC can be a one-stop shop for any small business, including services for checking, savings, credit cards and other business banking options. Business owners can also handle their personal finances with PNC, including auto loans, mortgage, retirement planning and investment management.
Pricing Summary
Setup Fee: $0
Monthly Fee: $19.95
Swipe Rate: 2.60%
Keyed-in Rate: 3.45% + $0.15
Early Termination Fee : Up to $900

Visit

PNC Merchant Services
The 1983 merger of PNC Pittsburgh National Corporation and Provident National Corporation created PNC bank. By virtue of this merger, PNC became the largest bank in Pennsylvania. Since then, PNC's management has focused on organic growth, mainly through the expansion of its middle-market corporate business. The company has also grown through the development of its retail business through enhanced online products. The company plans to merge with BBVA USA. Once complete, the merged company will become one of the top five largest banks in the U.S.

The merger will also expand operations from coast to coast, particularly increasing presence in the Western states.
PNC Merchant Services

Overview

PNC Merchant Services is the merchant services division of PNC Bank, headquartered in Pittsburgh, Pennsylvania. The company operates as a First Data reseller, providing merchant accounts and Clover point-of-sale products.

Small businesses find great convenience in PNC Merchant Services virtual payment system. These payment systems allow them to process credit/debit cards for mail-in, eCommerce- and telephone orders. Reviewers indicate satisfaction with this system. Virtual payments run through PNC Merchant Services website, so no equipment is needed. In addition, PNC Merchant Services manages the website and has the robust cybersecurity features of a large financial institution. Many smaller businesses are better off teaming with a large payment processor rather than implementing their own security protocols, which is highly expensive.

PNC Bank is headquartered at 249 Fifth Avenue, One PNC Plaza, Pittsburgh, Pennsylvania 15222. Troy Baker serves as the senior vice president and managing director of the division.


Quick Facts

Head Quarters
Pittsburgh, PA
Merchant Provider Risk Tolerance
What We Like

Offers multiple hardware solutions.
Traditional banking services such as auto loans, mortgages etc. are also available to business customers.
Domestic phone support during business hours.
Checks are accepted as payment.
What We Don't Like

Three year contract term.
Expensive hardware leases.
Limited pricing information is available online.
Industries Served
Clothing & Apparel
Convenience Store
Education
Educational Seminars
Electronics
Gas Station
Healthcare
Hunting & Outdoor Equipment
Legal
Medical
Moving Companies
Personal Service
Property Management
Restaurant / Bar
SAAS
SEO & SEM Services
Thrift Store
Web Design Services
Business Types Served
B2B
Ecommerce
High Volume
Information
Low Risk
MLM
Mobile
Mom & Pop
MOTO
Online
Retail / Card Present
Small Business
Wholesale
PNC Merchant Services

Products & Services

PNC Merchant Services conducts business as a payment processor reseller. It gets most of its equipment from First Data and offers an extensive Clover selection. The variety of products and available business services make PNC a great choice for business owners who need a full-service banking approach, rather than a payment processor reseller that only provides equipment. PNC offers merchant cash advances and other types of business loans at competitive rates.

Some of the more popular products and services include the following:

Clover Family Package

Clover offers some of the most effective payment processing systems. For those who like the Clover brand, PNC provides a great option.

Mobile Processing

In today's tech-driven world, mobile processing is a must. One day, customers may pay for everything with their phones. PNC provides user-friendly mobile payment processing solutions.

EMV & Contactless Acceptance

With COVID-19 continuing to spread, contactless acceptance has become a key tool in fighting the pandemic. PNC offers its customers this option, which may even be mandatory in some areas. Contactless acceptance goes a long way to preventing the spread of all contagious illnesses, so we can expect the concept to remain prevalent after the COVID-19 crisis abates.

Check acceptance:

It's always important to verify if a check is authentic. PNC bank provides security tools that indicate when it is safe to accept a check.

Internet and eCommerce Package

Between the development of Amazon and the pandemic restrictions, more and more business has moved online. Consumers seem to like this arrangement, so signing up for a PNC Bank internet and eCommerce package is more than just a convenience. It is also a competitive necessity.

Analytics

PNC Bank collects data that helps business owners make wiser decisions. For example, knowing the ratio of visitors to a website to sales inquiries generated by the site provides a window into its effectiveness.
PNC Merchant Services

Payment Processing
Credit Card Processing
Debit Card Processing
eCheck & ACH Processing
Mobile Payments App
Online Payments
Payment Gateway
POS Equipment
Virtual Terminal
PNC Merchant Services

Billing & Invoicing
Mobile Payments
Multi-Currency
Online Payments
Payment Processing
Recurring/Subscription Billing
PNC Merchant Services

Pricing, Rates & Fees

PNC Merchant Services posts its pricing on its website, which is a big plus in an industry famous for opaque pricing structures. Its latest transaction rates stand at a flat 2.6% for swipes and 3.45% plus $0.15 for keyed-in swipes.

The company does not disclose, however, whether it charges a PCI compliance fee. Reviews show that PNC Merchant Services does charge fees for setup ($395), application and programming. Clients must also agree to a $5 statement fee and $15 to $20 monthly minimum.
Pricing at a Glance
Pricing Model
Tiered Pricing
Keyed-in Rate

3.45% + $0.15
Virtual Terminal Rate
1.89% + $0.23 - 2.90% + $0.30
Early Termination Fee
Up to $900
PCI Compliance Fee
Undisclosed
Equipment Lease Terms
48 Month (locked)
Address Verification Service (AVS)
Gateway Setup Fee
$90 (Programming Fee)