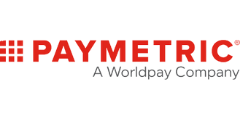 Best for
Large scale enterprises, global brands. 
Specializes in
Integrated payment solutions, cloud-hosted platforms.
Pricing Summary
Setup Fee: $0
Monthly Fee: Undisclosed
Swipe Rate: 2.90% + $0.30
Keyed-in Rate: 3.30% + $0.30
Early Termination Fee : $295

Visit

Paymetric
Paymetric is a division of WorldPay, which is owned by Fidelity National Information Services. Its headquarters is located in Roswell, GA, and was founded in the year 2000. Paymetric has 125 employees and specializes in integrated payment solutions for large scale enterprises.
Paymetric was created to make more comfortable, streamlined, integrated payments for large enterprises worldwide. Their parent company, WorldPay, provides the network with payment processing. Using cloud-hosted platforms allows them to lower operational expenses, streamline payment processing, and reduce interchange costs.

The company doesn't disclose its contract policies online. However, its parent company, WorldPay, states on its website that its rates are 2.90% plus $0.30 for swiped transactions and 3.30% plus $0.30 for keyed-in transactions. According to reports on other websites, merchants are charged more when they directly work with WorldPay than signing up with a reseller like Paymetric. This means Paymetric's customers likely received a better rate than the one stated above.

Large enterprises and global brands are most likely to benefit from working with Paymetric. However, they do also work with small and medium businesses.
Quick Facts

Merchant Provider Risk Tolerance
What We Like

Large enterprises and global brands are more likely to benefit from working with the company.
Has a low risk business tolerance.
Account approval for low risk businesses is near one-hundred percent.
Offers compliance support and merchant portfolio management.
What We Don't Like

Public pricing is not available.
Does not disclose all terms.
Industries Served
Accounting & Tax Prep
Clothing & Apparel
Convenience Store
Electronics
Gas Station
Legal
Moving Companies
Personal Service
Property Management
Restaurant / Bar
SAAS
SEO & SEM Services
Thrift Store
Web Design Services
Business Types Served
B2B
Ecommerce
Enterprise Merchant Accounts
High Volume
Information
Low Risk
MLM
Online
Retail / Card Present
Small Business
Wholesale
Paymetric

Products & Services

ISO

Paymetric's ISO is one of their advertised features. They offer a full range of payment processing solutions, sponsorship into all payment networks, and have an almost perfect 100% new account approval rate for low-risk businesses. Paymetric's ISO also offers compliance support and merchant portfolio management.

eCommerce

Paymetric's eCommerce solutions focus on four main areas: economics, sales enablement, product enablement, and business support. Having eCommerce capabilities means that merchants can reach 99% of the global GDP footprint, and Paymetric has the experience and licenses to help merchants get access to worldwide markets. Being able to reach more customers means an increase in sales and revenue. 

Payment Facilitator

With more than four decades of payments leadershi[ and experience, Paymetric has all the tools and services that allow merchants to choose funding options, settlement, revenue generation, and risk management capabilities for payment facilitators. 
Paymetric

Payment Processing
Credit Card Processing
Debit Card Processing
Mobile Payments App
Online Payments
Payment Gateway
Payment Processing Services Integration
Virtual Terminal
Paymetric

Billing & Invoicing
Multi-Currency
Online Payments
Payment Processing
Paymetric

Contract & Terms

Merchants thinking about getting into business with Paymetrick ought to read through the company's contract carefully. It appears that the standard service agreement is for three years with automatic one-year renewals. To discontinue service, merchants need to give written notice within 90 days of the new billing cycle. The contract has an early termination fee of up to $295, and they appear to charge a PCI compliance fee of between $15-25 each month, which is considered high for services in this industry. Merchants may also be charged an annual fee of $69.

Due to Paymetric operating their services through cloud-based platforms, merchants likely don't need to pay for long-term equipment leases. Instead, they might be charged for the cost of the cloud-based platform.
Contract Length
Unknown3 Years
Early Termination Fee
$295
Paymetric

Complaints, Ratings & Reviews

Paymetric is not currently registered with the BBB, and it has one recorded complaint in the last year and a half. The BBB has still provided it with a rating of "A-," which other review sites tend to agree with. However, just because that is the BBB review, merchants should still be skeptical and contact the company with a series of questions before proceeding to do business with them. 
Ratings

Google
5 Stars / 2 Reviews
Reviews

Total Online Complaints
<10