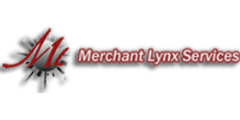 Best for
Merchant Lynx Services is suited for online and in-store small to mid-sized businesses in the Retail, MOTO, restaurants, and e-commerce industries.
Specializes in
The company specializes in credit and debit card processing services. Check verification and guarantees are offered by the company to mitigate fraud risk. EMV acceptance, virtual terminals, and electronic payment gateways are also provided by the company, along with a loyalty program, gift cards, POS hardware, and digital check imaging.
Pricing Summary
Setup Fee: $0
Monthly Fee: Undisclosed
Swipe Rate: 1.00% - 4.99%
Keyed-in Rate: 1.00% - 4.99%
Early Termination Fee : $495

Visit

Merchant Lynx Services
The company offers card processing through iPayment, an ISO of First Data Corporation, and hardware leasing through First Data Global Leasing. Merchant Lynx Services is an ISO/MSP of Wells Fargo Bank, N.A., in California.
Merchant Lynx Services

Overview

Merchant Lynx Services is headquartered in Palm Beach Garden, Florida, with offices in Georgia, Pennsylvania, New York, Illinois, and Arizona and claims to have been in business since 1994. However, the Better Business Bureau (BBB) reports it to be in place since 2006.

The company's website does not offer sufficient information about service rates and applicable industry fees. Merchant Lynx is not a standup company and has a reputation for rampant customer complaints on numerous online forums, review sites, and the BBB for poor customer service, deceptive sales tactics, and hidden charges.

Merchant Lynx Services had an investigation launched against it in 2014 by the Florida Attorney General for unfair trade practice violations, which was only closed once the Merchant Lynx agreed to pay state legal fees of more than $40,000.

The company is currently a defendant in a lawsuit that the company may settle for excessive and undisclosed fees.
Quick Facts

Head Quarters
Palm Beach Gardens, FL
Merchant Provider Risk Tolerance
What We Like

Gift and loyalty programs
What We Don't Like

Numerous public complaints
Industries Served
Clothing & Apparel
Convenience Store
Electronics
Gas Station
Hunting & Outdoor Equipment
Marketing Agency
Personal Service
Property Management
Restaurant / Bar
SAAS
Self Defense, Tasers & Stun Guns
Thrift Store
Travel
Business Types Served
Ecommerce
High Volume
Information
Low Risk
Mobile
Mom & Pop
MOTO
Online
Retail / Card Present
Small Business
Wholesale
Merchant Lynx Services

Products & Services

Merchant Lynx Services offers payment processing services through iPayment, an ISO of First Data, at variable rates in a 3-year contract that auto-renews for one year. The company provides Virtual Terminals and Payment Gateway but does not disclose any pricing for those services.

Equipment leasing is available through a third party, First Data Global Leasing, for a non-cancelable 48-month period with an early termination fee of $495.
Merchant Lynx Services

Payment Processing
Check Guarantee
Credit Card Processing
Credit Card Terminals
Debit Card Processing
EMV Processing
Gift & Loyalty Program
Online Payments
Payment Gateway
POS Equipment
Virtual Terminal
Merchant Lynx Services

Billing & Invoicing
Online Invoicing
Online Payments
Payment Processing
Merchant Lynx Services

Pricing, Rates & Fees

The Company agreement is a three-year contract, followed by an automatically renewed agreement for another year and an early termination fee of $495. Additional fees include;

Keyed-in, Swiped, and Virtual Terminal rates - 1.00% - 4.99%

PCI Compliance fee of $159

Fees for a Payment Gateway or a Virtual Terminal are not available. There may also be other fees that Merchant Lynx Services doesn't disclose, such as a minimum monthly fee, a statement fee, among others.

An application submission fee of $99 is applicable for a non-cancellable equipment lease provided through First Data Global Equipment for 48 months.
Pricing at a Glance
Keyed-in Rate

1.00% - 4.99%
Virtual Terminal Rate
1.00% - 4.99%
Payment Gateway Fee
Undisclosed
Early Termination Fee
$495
Equipment Lease Terms
48 Month (locked)
Address Verification Service (AVS)
Gateway Setup Fee
Undisclosed
Merchant Lynx Services

Complaints, Ratings & Reviews

Overall, Merchant Lynx Services gets an abysmal score from merchants. Although the BBB rates the company an A-, the Merchant Lynx has 65 complaints in the last 36 months, 22 in the previous twelve months. Merchants have gone as far as labeling the company a scam or a ripoff.

A high portion of merchants view the company negatively, and there has been an investigation and a lawsuit filed against Merchant Lynx Services. In 2014, the Attorney General of Florida alleged that the company "violated Florida's Deceptive and Unfair Trade Practices Act." Although the DA's office ended the investigation, it did so once Merchant Lynx agreed to pay more than $40,000 of fees. Also, Merchant Lynx is currently a defendant in a civil lawsuit that it is about to settle, filed against the company by Liberty Salad, Inc., alleging that the company charged unauthorized fees after Merchant Lynx's sales agent failed to disclose the company's program guide.
Ratings

Google
3.8 Stars / 119 Reviews
Reviews

Total Online Complaints
100