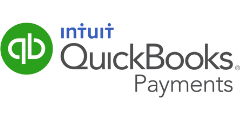 Best for
Professional services merchants who want seamless QuickBooks integration and no monthly minimums
Specializes in
POS payments, online payments, mobile payments, eCommerce, invoicing
Pricing Summary
Setup Fee: $0
Monthly Fee: Up to $20
Swipe Rate: 2.4% + $0.25
Keyed-in Rate: 3.4% + $0.25
Early Termination Fee : $0

Contract Terms:

No Contract Required
Month-to-month
Visit

Intuit Merchant Services
Intuit Merchant Services is a merchant account provider that's also sometimes called QuickBooks Payments. The service was built to provide merchants who use QuickBooks with a seamless way to integrate their online, mobile, and POS payments. The service's seamless integration with QuickBooks makes it a favorite among professional services providers that utilize the popular accounting tool.
Intuit Merchant Services

Overview

Intuit Merchant Services is a division of Intuit that focuses on payment processing and QuickBooks integrations. It's based out of the company's Mountain View, California, headquarters and has been around in some form since the early 2000s. The company currently uses First Data as its backend payment processor but handles customer services and most operations in-house.

Intuit Merchant Services allows merchants to process just about any type of payment that they may receive. Depending on which plan you sign up for, you can use Intuit Merchant Services to process your POS payments, online payments, and mobile payments.

The company uses a tiered pricing model and flat rates. These vary depending on which plan you sign up for. But regardless, you won't have to worry about burdensome early termination fees or pesky long-term contracts with this provider.

Online reviews for Intuit Merchant Services are generally favorable. There have been some complaints about unclear contractual terms and rates. But these seem to be mostly isolated occurrences.
Quick Facts

Head Quarters
Mountain View, California
Merchant Provider Risk Tolerance
What We Like

What We Don't Like

Industries Served
Accounting & Tax Prep
Bail Bonds
Clothing & Apparel
Convenience Store
Credit Repair
Debt Consolidation
Electronics
Healthcare
Legal
Marketing Agency
Moving Companies
Personal Service
Property Management
Restaurant / Bar
SAAS
Thrift Store
Web Design Services
Business Types Served
Ecommerce
Low Risk
MLM
Mobile
Non Profit
Online
Retail / Card Present
Small Business
Subscription / Continuity
Wholesale
Intuit Merchant Services

Products & Services

QuickBooks Point of Sale Payments

Intuit Merchant Services can help you process your POS payments. You can use any POS system that you want with Intuit Merchant Services, but only QuickBooks' POS System will sync with your QuickBooks account automatically. 

There are a few different plans to choose from here. There's a free option or a paid option that reduces your per-transaction fee and comes with some nice features.

eCommerce Payment Processing

Intuit Merchant Services also provides eCommerce payment processing solutions. Once again, the company offers merchants the option of choosing between a pay-as-you-go plan or paying a monthly fee to get a reduced rate. Either way, you'll be able to process debit, credit, and other types of payments and the data generated from these sales will automatically sync with your QuickBooks account.

GoPayment

GoPayment is Intuit Merchant Services' solution to mobile payments. It's a very straightforward offering. You pay-as-you-go so you won't have to worry about any burden contracts. Additionally, GoPayment provides merchants with a free card reader that's capable of processing EMV payments.
Intuit Merchant Services

Payment Processing
Chargeback & Fraud Prevention
Check Services
Contactless NFC
Credit Card Processing
eCheck & ACH Processing
EMV Processing
Gift & Loyalty Program
Mobile Payments App
Online Payments
Online Shopping Cart Integration
Payment Gateway
Signature Capture
Virtual Terminal
Intuit Merchant Services

Billing & Invoicing
Mobile Payments
Online Invoicing
Online Payments
Payment Processing
Project Billing
Recurring/Subscription Billing