Thinking of using Heartland Payment Systems? There's a better option.
View our top recommended merchant account provider for your business.
Heartland Payment Systems Review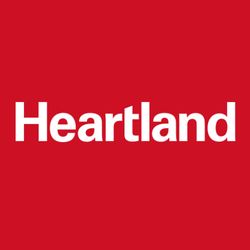 Large company with nearly three decades of operational history established in 1992 in Edmond, OK.
| | |
| --- | --- |
| Setup Fee | $0 |
| Monthly Fee | $25 |
| Swipe Rate | Interchange-Plus |
| Keyed-in Rate | Interchange-Plus |
| Early Termination Fee | $295 per location |
| Contract Terms | Month-to-month, 3 Years |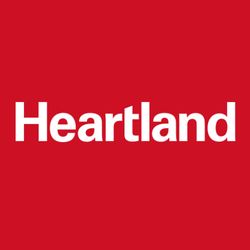 Heartland Payment Systems Overview
Heartland Payment Systems is often considered a merchant payment processing industry staple due to its longevity (founded in 1997) and massive size (over 4500 employees.) 
The Edmond, Oklahoma-based company has built out an impressively broad suite of products and services that cater to a wide variety of industries, with a slight leaning towards the food and beverage industry. Heartland Payment Systems was acquired by Atlanta-based Global Payments in 2016, which is considered a top merchant acquirer. In 2019, Global Payments and the industries eighth top acquirer, TSYS, merged to further establish their stake in the payment industry.
Heartland Payment Systems has built out a fairly intuitive platform that enables multichannel selling and customized solutions for a very wide array of industries, making it a decent choice for any type of company. It scores highly on the quality of products offered, ranging from dedicated merchant accounts to payment security that utilizes Heartland E3 end-to-end encryption, tokenization technologies, and EMV.
Heartland uses tiered pricing as the default, which doesn't necessarily benefit small business owners because the cost of processing can vary significantly based on how and where a card was processed and where. Minor fees like a $25/month Service & Regulatory Mandate" fee and the monthly credit card billing fees can stack up if you're not privy to them.
However, its lackluster 3/5 rating comes from its steep early termination fee of a stomach-turning $295 per location. Although early termination fees are not uncommon, this is exceptionally high. Also, contracts with Heartland seem to automatically renew, and customers are required to give them a 60-day notice to elect a non-renewal.
Overall, Heartland Payment Systems will get the job done and has been around for a long time for a reason. However, be mindful of contract terms and stay on top of your billing with the company, as many customers have vented their frustration in not-so-kindly-worded reviews.
Heartland Payment Systems Industries Served
Heartland Payment Systems Business Served
Heartland Payment Systems Pros & Cons
Good for the food and beverage industry
Nonprofit discounts available
Early termination fee (ETF) is $295 per location
Nontransparent tiered pricing
Potentially deceptive sales tactics
Heartland Payment Systems Products & Services
As mentioned above, Heartland has a wide array of products for merchants in the listed categories, as well as specific solutions designed for smaller niches.
A few of the companies most notable solutions are:
EMV Terminal Solutions: Wide variety of terminal solutions such as dip, swipe, and chip-card enabled terminals, coming in non-integrated, semi-integrated, and fully-integrated options.
Contactless Payments Acceptance: Support for Android, Samsung, and Apple pay apps.
POS System Integrations: Perfect for any restaurant, Heartland's POS systems make it easy to integrate a company's unique terminals with a wide variety of other POS solutions.
Heartland MobilePay: Great for charity events and tradeshows, the Heartland MobilePay makes it possible to accept payments on the ground. A few reviews note instability issues with the app, but in case you're caught with the glitches, you can also use a Heartland all-in-one mobile card reader.
eCommerce Shopping Cart: Heartland plugs into more than 550 platforms and 80% of popular shopping carts, with the ability to customize to your needs.
Recurring Online Billing: Make subscriptions manageable with Heartland's support for billing and recurring charges.
Restaurant Tools: Restaurants and food delivery businesses can simplify their online ordering and delivery service with one of Heartland's specific solutions.
The list of Heartland's services is impressive in its breadth, and if you have a need, they likely have a solution available that can help you address it.
Heartland Payment Systems Advertising & Sales
Heartland employs a commission-only sales team, which is considered in most industries a practice that tends to lead to higher-pressure sales and lower-quality customer experiences.
However, as any legacy company in a competitive industry trying to fight off incumbents, Heartland has done a decent job of being fair and transparent. It's a massive company, and it's inevitable that some of its thousands of customers throughout the years may feel as if they got bamboozled by something that was either a misunderstanding or a lack of communication from a sales rep looking to close a sale to get paid.
In contrast, many smaller merchant account providers tend to be much more transparent with their processing rates, and usually don't have exorbitant early-termination fees. However, those smaller providers likely lack the product offerings and services of Heartland.
| | |
| --- | --- |
| Advertises Deceptive Rates | No |
| Discloses All Important Terms | No |
| Public Pricing Available | No |
Heartland Payment Systems Pricing, Rates & Fees
While Heartland's sales and advertising strategies don't seem mischievous, they conveniently don't mention their fees or pricing on their site, which has been a major cause of frustration for many users. In fact, many of the complaints online about Heartland have to do with disclosing contract terms and fees.
Heartland uses a flexible pricing structure called "interchange-plus"– which is basically an agreement where companies elect to charge a service fee on top of the credit card provider's interchange cost.
| | |
| --- | --- |
| Pricing Model | Interchange Plus, Tiered Pricing, Flat Rate |
| Swiped Rate | Interchange-Plus |
| Keyed-in Rate | Interchange-Plus |
| Mobile Payment Rate | |
| Virtual Terminal Rate | 1.00% - 4.99% |
| Monthly Fee | $25 |
| Payment Gateway Fee | Undisclosed |
| Batch Fee | Variable |
| Early Termination Fee | $295 per location |
| PCI Compliance Fee | $0 |
| Equipment Lease Terms | Variable |
| Address Verification Service (AVS) | |
| Application Fee | |
| Account Setup Fee | $0 |
| Gateway Setup Fee | Variable |
| Annual Fee | Variable |
| Monthly Minimum | |
| Statement Fee | Variable |
Heartland Payment Systems Contract & Terms
Heartland Payment Systems offers month to month and 36-month agreements. 
Merchants who choose to terminate their agreement before the contract end date will get hit with a $295 early termination fee per location, which is very steep and earns Heartland Payment Systems a demerit in this category. 
Additionally, contracts are automatically renewed unless the merchant gives Heartland Payment Systems a 60-day notice.
Heartland Payment Systems Setup & Support
There isn't much information about the setup process on the Heartland Payment Systems website, but the Internet is littered with disgruntled customers blaming the source of their frustrations with the Heartland Payment Systems set up process. This likely ties into a lack of follow-through from sales to set up, and the steep early-contract cancellation terms preventing new customers from leaving too soon. 
Customer service is a mixed bag, but a representative from Heartland Payment Systems notes their customer service department is First Class, claiming you can speak to a live person in under 10 seconds and accomplishing any simple task in a matter of minutes. 
The Heartland Payment Systems team is entirely US-based and in-house, and is available 24 hours a day, seven days a week, and 365 days a year. The site lists several phone numbers for a wide variety of problems, likely making a direct call more likely than being transferred between reps. 
Further, there is a significant amount of documentation for developers, as well as the dedicated support channels to provide individual teams the resources to build customer solutions on top of the Heartland suite. 
There is usually a stark disconnect from users complaining about the setup process and the customer service promises outlined on the site, which is likely the result of a handful of extremely vocal and dissatisfied customers outlining their negative experiences. Heartland has thousands of customers, so it makes sense for them to invest in a quality in-house customer support team.
Heartland Payment Systems Complaints, Ratings & Reviews
As with any large merchant payment processing company, customer reviews and ratings run the gamut from aggressive "If I could give 0 stars I would!" to "5/5 super effortless experience!"– both of which should be taken with a grain of salt. 
On one hand, review sites tend to exhibit a strong negativity bias, where angry customers want to right their wrongs by chastising the company on a public forum. On the other hand, gleaming and overly positive reviews just don't seem authentic– how many colleagues do you have that are prepared to write a glistening review about a payment processor?
The Heartland Payment Systems negative reviews note that merchants are unhappy with the hidden fees and potential "bait and switch" schemes, which is a fairly predictable complaint about companies that use commission-based sales practices. 
The Heartland Payment Systems positive reviews contradict some of the negative reviews, noting that a specific sales representative was very helpful and trustworthy; it might just be a varied experience with sales reps. Other positive reviews note that Heartland's wide range of services and products are very useful to have within reach as company needs change.
| | |
| --- | --- |
| BBB | B- ( 16 Complaints) |
| Google | 3 Stars / 87 Reviews |
| Facebook | N/A |
| Yelp | 2.5 Stars / 25 Reviews |
| | |
| --- | --- |
| Total Online Reviews | 415+ |
| Total Online Complaints | 150+ |
| Lawsuits | 2 |
If you are a Heartland Payment Systems representative provider please contact us to add any information we missed.