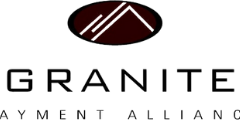 Best for
It is best for any business, regardless of size, ranging from small businesses to nationwide organizations.
Specializes in
Granite Payment Alliance primarily specializes in financial institution processing and merchant payment solutions.
Pricing Summary
Setup Fee: $0
Monthly Fee: $4.95 Per Month
Swipe Rate: 1.00% - 4.99%
Keyed-in Rate: 1.00% - 4.99%
Early Termination Fee : Variable

Visit

Granite Payment Alliance
Granite Payment Alliance is headquartered in Roseville, California, with offices at 3400 Douglas Blvd, Ste 150, Roseville, California 95661. It is a registered ISO/MSP of Esquire Bank, Jericho, New York, and Wells Fargo Bank, N.A., Walnut Creek, California. Granite Payment Alliance was established in 2006, and its current CEO is Alex Batlle.

The general customer review consensus views the company and its products positively, although its reputation is not completely stain-free. 
Granite Payment Alliance

Overview

Granite Payment Alliance focuses on financial institution solutions, providing terminals, wireless and mobile payments, a POS system, eCommerce processing, gift, loyalty cards, check services, and EBT.

The website doesn't list the pricing for its products and services, which tends to be typical for this industry.

The company's reputation benefits from a clean complaint record.  
Quick Facts

Head Quarters
Roseville, CA
Merchant Provider Risk Tolerance
What We Like

All important terms are disclosed.
A month to month contract is available.
Interchange plus pricing.
What We Don't Like

Variable early termination fee.
Public pricing is not available.
Industries Served
Clothing & Apparel
Convenience Store
Electronics
Gas Station
Moving Companies
Personal Service
Restaurant / Bar
SAAS
SEO & SEM Services
Thrift Store
Business Types Served
Ecommerce
Enterprise Merchant Accounts
High Volume
Information
Low Risk
Mobile
Mom & Pop
MOTO
Online
Retail / Card Present
Small Business
Wholesale
Granite Payment Alliance

Products & Services

Hardware & Software


  Merchant Accounts for Retail, MOTO, eCommerce, Restaurants, and Lodging


  Point of Sale System


  eCommerce payment processing


  A payment gateway that includes a virtual terminal


  Nationwide Processing


  Mobile processing


Value-Added Services
Supported Payment Types / Services


  Debit and Credit Cards


  Gift and Loyalty Cards


  Mobile Payments


Granite Payment Alliance

Payment Processing
Credit Card Processing
Credit Card Terminals
Debit Card Processing
EBT Acceptance
EMV Processing
Gift & Loyalty Program
Gift Card Management
Mobile Commerce
Mobile Payments App
Online Payments
Online Shopping Cart Integration
Payment Gateway
Payment Processing Services Integration
POS Equipment
Receipt Printing
Recurring Billing
Retail Payment Processing
Shopping Cart Integration
Shopping Cart Provided
Virtual Terminal
Granite Payment Alliance

Billing & Invoicing
Billing Portal
Customizable Invoices
Mobile Payments
Online Invoicing
Online Payments
Payment Processing