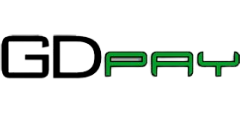 Best for
Small to mid-sized businesses catering to almost all types of customers
Specializes in
Specialize in two main areas. The first is B2B, Level 2 & Level 3 credit card processing where merchants can save over 1/2 percent on their Interchange rates. The second area is with Quickbooks Integration with your merchant account.
Pricing Summary
Setup Fee: $49.95
Monthly Fee: $6.95
Swipe Rate: 1.00% - 4.99%
Keyed-in Rate: 1.00% - 4.99%
Early Termination Fee : none

Visit

GDpay
The company offers its services to many industries, such as retail, hospitality, eCommerce, mobile merchants, Mail Order Telephone Order (MOTO), B2B, etc.

GDpay is an ISO/MSP of Chase Merchant Services, CardConnect, Synovus Bank, and Fifth Third Bank
With nearly two decades of experience in the payment processing industry, GDPay has established itself as a customer-focused business partner that serves firms of various sizes and catering to many industries. Established in 2006, the Denver, Colorado-based company looks to empower clients by educating them about merchant payment processing services and how it stands out from the crowd. 

GDPay consistently receives good reviews from different business users who are confident they are getting the best pricing structure. That's primarily because the company offers an Interchange Plus pricing option that is more transparent than the tiered pricing programs offered by many of its competitors.

The company lets businesses set up numerous payment channels, such as gift card offerings, loyalty programs, various check processing solutions, fleet card services, the obvious debit and credit card processing, as well as offering Point of Sale terminals, among others. For all these services, GDPay emphasizes its security and touts its patented point-to-point encryption and tokenization technology while remaining nimble and letting businesses easily sync GDPay's services into their existing workflows and systems.
Quick Facts

CEO
Craig Yox and Kevin Yox
Merchant Provider Risk Tolerance
What We Like

The company's website includes an extensive list of support numbers, an FAQ section, and a glossary for merchants.
Does not promote misleading rate quotes on its website
What We Don't Like

No pricing information disclosed on the website
Based on our research pricing options include a 5-year option, too lengthy by industry standards
Industries Served
Accounting & Tax Prep
Clothing & Apparel
Convenience Store
Education
Educational Seminars
Electronics
Gaming
Gas Station
Guns & Firearms
Healthcare
Marketing Agency
Medical
Moving Companies
Personal Service
Property Management
Restaurant / Bar
SAAS
Self Defense, Tasers & Stun Guns
Telemedicine
Thrift Store
Travel
Web Design Services
Business Types Served
B2B
Ecommerce
High Volume
Information
Low Risk
Mobile
Mom & Pop
MOTO
Non Profit
Online
Retail / Card Present
Small Business
Tech Support
GDpay

Products & Services

As cited earlier, GDPay lets businesses incorporate a host of payment processing options into their workflows, allowing them to grow from multiple avenues.

Some examples of their offerings are;

Smart Terminal – Through GDPay's smart terminal offerings, businesses can accept EMV enabled cards and payments via NFC technologies.

Online Processing – GDPay offers options to process mobile and online payments. These offerings let customers process payment regardless of location, online, or from a mobile device.

Gift Cards – GDPay has an entire suite of gift card offerings. Clients can choose from Gift Card Now, Advantage, or Custom. The entry-level Gift Card Now option offers businesses 50-100 gift cards, which include their business details. A slightly larger option, offering 250-500 gift cards allowing firms to be more personalized and use their branding. Finally, a more customizable option is available via the Gift Card Custom option for larger businesses with an established network of operations and branding strategy.

Point of Sale – GDPay has various options that let customers accommodate numerous POS options that protect against fraud and hacking via its secure encryption and offers several syncing options with not just hardware but also 3rd-party software and apps.
GDpay

Payment Processing
ACH Check Transactions
Chargeback & Fraud Prevention
Check Services
Contactless NFC
Credit Card Processing
Credit Card Terminals
Debit Card Processing
eCheck & ACH Processing
EMV Processing
Gift & Loyalty Program
Gift Card Management
Merchant Cash Advance
Mobile Card Reader
Mobile Commerce
Online Payments
Payment Gateway
Payment Processing Services Integration
POS Equipment
Receipt Printing
Recurring Billing
Retail Payment Processing
Virtual Terminal
GDpay

Billing & Invoicing
Billing Portal
Customizable Invoices
Mobile Payments
Online Invoicing
Online Payments
Payment Processing
Recurring/Subscription Billing
The company offers several options for pricing and contract terms. None of these options mention early termination fees, and one included a cancelation fee. There are built-in agreements for one of their contract options to lease equipment, which GDPay itself discourages. Furthermore, the duration of its contracts with their multi-year agreement options is a bit lengthy. As such, the contract fine print should be thoroughly reviewed, and the same caution is recommended in regard to any fees that are not mentioned, such as batch fees, gateway fees, and support fees.

There are online marketplaces that customers should search which have explicitly negotiated no cancelation fees as part of their affiliation.
Early Termination Fee
none
GDpay

Complaints, Ratings & Reviews

GDPay has one of the best reputations in the payment processing industry. Of the various online review platforms, Better Business Bureau, Yelp, and Ripoff Report, none of them had any bad reviews or complaints lodged against the company. 

GDPay's own website has a dedicated page of client testimonials, mainly citing its client-focused culture and transparency in its pricing and fee structure. 

Third-party marketplaces and partners which have numerous other payment processors on their websites laud GDPay for its competitive and transparent pricing and point to the company's almost perfect verified merchant reviews on their sites.
Ratings

Google
5 Stars / 51 Reviews
Facebook
5 Stars / Based on the opinion of 5 people