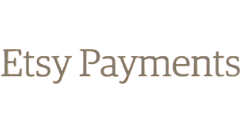 Best for
Merchants who want to sell their products on Etsy
Specializes in
eCommerce payment processing
Pricing Summary
Setup Fee: $0
Monthly Fee: $0
Swipe Rate: 3% + $0.25
Keyed-in Rate: 3% + $0.25
Early Termination Fee : $0

Visit

Etsy Payments
Etsy Payments is a merchant account solution that enables merchants to accept online payments directly through their stores on the Etsy platform. It's a rebranded version of an older product called Etsy Direct Checkout. Etsy Payments is currently the only payment processing solution available to merchants on the platform at this time.
Etsy is an online marketplace that specializes in unique items sold by individual creators. The company's headquarters are in Brooklyn, New York, and Etsy's CEO is Josh Silverman. Etsy Payments is the company's integrated merchant account solution.

With Etsy Payments, a merchant can process the payments for the items they sell directly through their Etsy store. This eliminates the need to utilize any third-party payment-processing solutions.

Etsy Payments accepts all major payment types, including credit and debit cards, PayPal, Google Pay, Apple Pay, and more. Etsy isn't a back-end processor. But it partners with companies like WorldPay, Adyen, and Square to provide this capability to its merchants.
Quick Facts

Head Quarters
Brooklyn, New York
Merchant Provider Risk Tolerance
What We Like

Does not outsource marketing or use telemarketing.
Transparent pricing model.
No hidden fees or cancellation fees.
Makes accepting credit cards or online payments on Etsy easy.
What We Don't Like

The mobile phone card swiper is no longer available.
Can be difficult to reach someone for customer support.
Accounts can be canceled without warning.
Only available to Etsy sellers.
Industries Served
Clothing & Apparel
Convenience Store
Electronics
Healthcare
Personal Service
SAAS
Thrift Store
Business Types Served
Ecommerce
Mobile
Online
Retail / Card Present
Small Business
Etsy Payments

Products & Services

eCommerce Payment Processing

Etsy offers its merchants a wide variety of services, including integrated marketing and web design tools. But Etsy Payments is a sub-branch of the broader company that only focuses on the processing of eCommerce payments. 

With Etsy Payments, you'll be able to accept just about any type of payment that a customer may want to use, including credit and debit cards, PayPal, Apple Pay, Google Pay, and more.

Seller Protection

The only other real feature that's offered by Etsy Payments is seller protection. When you sell an item through the service, you automatically qualify for Etsy's Seller Protection Policy. This involves a team of payment specialists and fraud-checking systems working around-the-clock to verify that your transactions are legitimate.
Etsy Payments

Payment Processing
Contactless NFC
Credit Card Processing
Debit Card Processing
Gift & Loyalty Program
Online Shopping Cart Integration
Etsy Payments

Billing & Invoicing
Etsy Payments

Pricing, Rates & Fees

Etsy Payments offers a very straightforward pricing structure that's generally favorable towards merchants. The company uses a pay-as-you-go system, in which there are no burdensome contracts, massive monthly fees, or hidden early termination fees. Instead, merchants who use Etsy Payments will only pay a per-transaction fee for every item they sell.

The going rate for Etsy Payments is 3% + $0.25 per transaction in the United States. But this rate varies based on the country that the merchant is operating out of. For example, merchants who are based out of the UK will be charged 4% + £0.20 per transaction.

It's worth noting that this is a bit higher than the industry's average. However, merchants who want to sell their products on Etsy really have no other choice but to accept these prices if they wish to continue doing so.
Pricing at a Glance
Virtual Terminal Rate
3% + $0.25
Equipment Lease Terms
None
Address Verification Service (AVS)
Etsy Payments

Contract & Terms

Etsy Payments is a great choice for merchants who value freedom. The company doesn't require its merchants to sign any multi-year agreements. Instead, you will be free to stop using Etsy Payment anytime you want. 

Just remember that to stop using Etsy Payments you would essentially have to stop selling your products on Etsy. So although there's no contractual agreement in place, it's not as though you have another payment processor to choose from on the Etsy platform. But at least you'll never have to worry about any monthly fees, cancellation fees, or early termination fees when you use this service.
Contract Length
No Contract Required