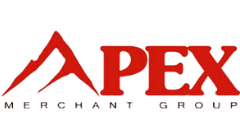 Best for
APEX Merchant Group is best for small to mid-sized businesses of different industries.
Specializes in
APEX Merchant Group (APEX) is a merchant account provider for many small and mid-sized businesses in various industries. The company resells payment processing services of First American Payments Systems, a merchant accounts provider with that has its own proprietary payment gateway and virtual terminal solution.
Pricing Summary
Setup Fee: $0
Monthly Fee: Undisclosed
Swipe Rate: Variable
Keyed-in Rate: Variable
Early Termination Fee : $495

Visit

APEX Merchant Group
APEX is a reseller of First American Payments Systems merchant account services, payment gateway, and virtual terminal solutions. The company is an ISO/MSP of Fifth Third Bank in Cincinnati, Ohio.

Based on the Better Business Bureau website, APEX started operations in 2008. The company is headquartered in Plano, Texas, and was founded by Andrew Frankel.
APEX Merchant Group

Overview

APEX was founded in 2008 by Andrew Frankel, the President, and CEO of the company. In April 2015, First American Payments Systems acquired APEX. The consolidation of the acquisition seems to have been disorderly based on numerous unanswered complaints against the company on the BBB website, which the company finally responded to with the statement that APEX email servers had been discontinued.

APEX had offered a tiered pricing plan with a 3-year contract through First American Payment Systems that auto-renews annually unless canceled explicitly within a certain period before renewal. The agreement also carries a hefty early termination fee of $495.

APEX hires independent sales teams only, effectively a sales team hiring mill, resulting in many complaints about its sales tactics.

APEX is not accredited with the BBB and has an A- rating from the bureau. The company had ten complaints in the last three years and eight complaints in the previous 12 months. Although it may seem that the company is improving its compliant record, in fact, APEX is now defunct as the company's website times out as visitors attempt to load the webpage and email servers are discontinued.
Quick Facts

Head Quarters
Plano, Texas
Merchant Provider Risk Tolerance
What We Like

Provides merchant account services.
Virtual terminal solutions are available.
Tailors solutions for small and midsize businesses.
What We Don't Like

Three year contract that automatically renews.
Employs an independent sales team.
Has a tiered pricing plan.
Industries Served
Accounting & Tax Prep
Clothing & Apparel
Convenience Store
Credit Repair
Debt Consolidation
Electronics
Legal
Marketing Agency
Personal Service
Property Management
SAAS
Thrift Store
Business Types Served
Ecommerce
Mobile
MOTO
Online
Retail / Card Present
Small Business
Subscription / Continuity
Wholesale