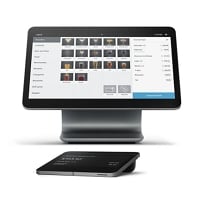 Square Register is a dual-screen POS hardware introduced by Square in 2017. The product is a sleekly designed, features-heavy, easy to set up, and reasonably priced POS device that can be easily used for multiple industries by plugging in the compatible peripherals.
The Square Register lets merchants accept EMV, mag-stripe, NFC cards, Apple Pay, Google Pay, and Samsung Pay.
| | |
| --- | --- |
| Setup Fee | $0 |
| Monthly Fee | $0 |
| Swipe Rate | 2.6% + $0.10 |
| Keyed-in Rate | 2.6% + $0.10 |
| Early Termination Fee | None |
| Contract Terms | Month-to-month, 1 Year |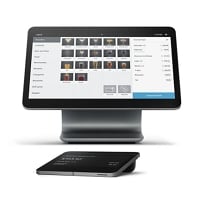 Square Register is a dual-screen POS hardware introduced by Square in 2017. The product is best suited for the Retail, restaurant, and hospitality industry and can be an all-in-one solution for small to mid-sized businesses' operational needs. Various reviews and online forums have touted the product's sleek design and, as is the case with all Square products, a speedy setup.
However, a drawback of that quick setup is that merchants instantly get set up for payment processing with the pertinent due diligence and vetting done after the fact. Square flags nefarious and suspicious activity by tracking transaction size, among other regulations, and placing a fund hold on those transactions.
Although a common practice in the payment processing industry and particularly for high-risk merchants, the shortcoming with Square's methodology is that it has to do that with all merchants, often regardless of risk-profile. This results in a high rate of fund-holds and releases to transactions that should not have had a fund hold placed on them.
Another weakness in the Square Register offering is limited phone support, which requires a unique code obtained from Square's website to activate a live support call.
Square Register Industries Served
Square Register Business Served
Square Register Pros & Cons
Access to App Marketplace
Fund holds are still an issue
Square Register Products & Services
Square Register: a dual-screen cloud-based POS device. Merchants can handle inventory management, set sales tax rates, manage employees and reporting and analytics. For service businesses such as restaurants, merchants can add the functionality of tips, tabs, and sending orders to the kitchen.
Tertiary Services – Square Register also lets merchants easily integrate industry-specific add-ons offered by Square at additional cost, such as:
Square Payroll – combine the time tracking tool in Square Register with payroll processing provided by Square, shown in select states
Square Retail – offers more advanced functions such as inventory management for multiple locations, purchase orders, calculating COGS, and P&L projections.
Square Restaurant – gives merchants the ability to manage table layouts and ordering based on food courses available.
Square Register Advertising & Sales
We did not find any complaints against Square Register for aggressive sales tactics. One of the best features of having a Square Register is the transparent and straightforward pricing that the company provides. That practice has become a hallmark of Square's reputation for all its products and services.
| | |
| --- | --- |
| Advertises Deceptive Rates | No |
| Discloses All Important Terms | No |
| Public Pricing Available | Yes |
Square Register Pricing, Rates & Fees
Square Register pricing and fees are as follows;
Swiped Rate and Keyed-In Rate – 2.6% + $0.10
Early Termination Fee – None
Equipment purchase terms – Square Register costs $799 or $39/month for 24 months.
| | |
| --- | --- |
| Pricing Model | Flat Rate |
| Swiped Rate | 2.6% + $0.10 |
| Keyed-in Rate | 2.6% + $0.10 |
| Mobile Payment Rate | |
| Virtual Terminal Rate | 2.6% + $0.10 |
| Monthly Fee | $0 |
| Payment Gateway Fee | |
| Batch Fee | None |
| Early Termination Fee | None |
| PCI Compliance Fee | None |
| Equipment Lease Terms | $799 or $39 Per Month over 24 Months |
| Address Verification Service (AVS) | |
| Application Fee | |
| Account Setup Fee | $0 |
| Gateway Setup Fee | None |
| Annual Fee | |
| Monthly Minimum | $0 |
| Statement Fee | |
Square Register Contract & Terms
The payment processing rates associated with Square Register are reasonable. The biggest draw of the service is the ease and speed with which merchants are set up.
Since Square Register specializes in a POS device, it is essential to note that there are no lease options. The pricing is straightforward, transparent, and competitive for the product.
Square Register Setup & Support
Like all other Square products, Square Register is a breeze to set up and start using. The drawback of Square Register is the limited live phone support that is available.
Although support staff is available via email and there are tremendous resources available on Square's website, you do not have round the clock phone support. When phone support is available, clients need a unique code from Square's website to activate a call.
This is the source of common complaints among merchants on both BBB and various other online forums.
Square Register Complaints, Ratings & Reviews
Square Register does not have its dedicated review with the Better Business Bureau (BBB). The parent company, Square, does and is assigned a rating of A+. There are numerous complaints against Square; 5,046 in the last 36 months and 3,449 in the previous 12 months. It is important to note that this is for the parent and not Square Register.
The complaints that are often listed that may apply to Square Register owners are regarding the sudden account holds without notice or reason and the complexity of getting a live person for phone support.
| | |
| --- | --- |
| BBB | A(4,644 complaints) |
| Google | N/A |
| Facebook | No Reviews yet |
| Yelp | N/A |
| | |
| --- | --- |
| Total Online Reviews | 5,000+ |
| Total Online Complaints | 2,000+ |
| Lawsuits | None |
If you are a Square Register representative provider please contact us to add any information we missed.