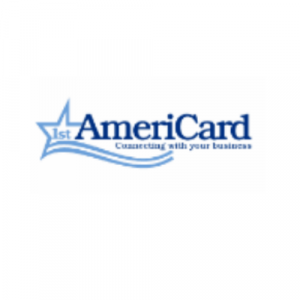 Best for
High-risk businesses in need of merchant services, although rates and fees may be higher for these companies.
Specializes in
Providing credit card processing and cash advances to high-risk businesses, including those that operate from home rather than a brick and mortar location.
Pricing Summary
Setup Fee: $0
Monthly Fee: Undisclosed
Swipe Rate: Variable
Keyed-in Rate: Variable
Early Termination Fee : Variable

Visit

1st Americard
1st Americard is located in Charlotte, North Carolina, and was founded in 1999.

They offer credit card processing services for merchants as well as cash advances.

1st Americard works with high-risk merchants, including those who have only been in business for a short time and those that are at-home businesses.
1st Americard was founded in 1999, and it is based in Charlotte, North Carolina. They offer merchant services including credit card processing and cash advances. 1st Americard is a registered ISO of Wells Fargo Bank.

There is very little information available on 1st Americard online. Their contract terms are variable, and they are a relatively small company with only 8 employees. They serve several industries, including:

Clothing and apparel
Convenience stores
Electronics
Gas stations
Healthcare organizations
Moving companies
Personal services
Restaurants and bars
Travel

They work with customers who want to accept mobile payments, online payments and other types of payment processing.

1st Americard has an A+ rating with the Better Business Bureau, but they are not an accredited business through the BBB. They have few reviews online, and many of them are negative. They mention undisclosed cancelation terms and unauthorized debiting due to penalties for low sales volumes.

It is possible that 1st Americard has been acquired by iPayment, although merchant cash advances are still available through their services.
Quick Facts

Head Quarters
Charlotte, North Carolina
Merchant Provider Risk Tolerance
What We Like

What We Don't Like

Industries Served
Clothing & Apparel
Convenience Store
Electronics
Gas Station
Healthcare
Moving Companies
Personal Service
Restaurant / Bar
Travel
Business Types Served
B2B
Ecommerce
Mobile
Mom & Pop
MOTO
Online
Retail / Card Present
Small Business
1st Americard

Products & Services

Credit Card Processing for High-Risk Businesses

1st Americard specializes in working with high-risk businesses that might struggle to get credit card processing and other merchant services elsewhere. They work with new businesses as well as those that operate from home or online without brick and mortar locations. They also provide cash advances to businesses in need of additional funds.

Pricing Disclosed to Customers

1st Americard offers tiered pricing for its customers, but its website lacks any detailed, concrete information. Equipment lease terms, transaction fees, and PCI compliance fees are variable. Also, customers have indicated that their cancelation policy is subject to change without notice.
Supported Payment Types & Services

1st Americard can help with the following:

Cash transactions
Check services
Credit card processing
Credit card terminals
Debit card processing
eCheck and ACH processing
EMV processing
High-risk industries
Merchant cash advances
Mobile payments app
Online payments
Payment gateway
POS equipment
Retail payment processing
Virtual terminals

1st Americard makes it possible for their customers to set up the types of payment processing systems that work best for them and their business needs.

1st Americard

Payment Processing
Cash Transactions
Check Services
Credit Card Processing
Credit Card Terminals
Debit Card Processing
eCheck & ACH Processing
EMV Processing
High-Risk Industries
Merchant Cash Advance
Mobile Payments App
Online Payments
Payment Gateway
POS Equipment
Retail Payment Processing
Virtual Terminal
1st Americard

Billing & Invoicing
Mobile Payments
Online Payments
Payment Processing